SK&CO
product focused campaign was developed including AB testing of different concepts.
BACCARAT
Brand brochure introducing the Baccarat Hotel New York. The hotel delights guests and residents by combining the noble heritage and perfect craft of the legendary French crystal company with a modern flair and elements of unexpected magic. Baccarat Hotel New York has been conceived in the style of a sumptuous hôtel particulier.
1 HOTELS
the hospitality brand took its cues from nature. We have an impact on nature, and nature has an impact on us. The hotel brochure illustrates the philosophy in mindful design. The brochure comes with a reusable tote underlining the overall concept. Go Unnoticed. All materials are chosen for minimal impact on the environment.
S'IP BY S'WELL
Email campaign highlighting the playful patterns of the brand.
COACH
On-line Holiday Campaign with headers for each category.
BLUE WATER GRILL
GONE FISHING. While the restaurant was closed for renovations, a weekly email with fishing tips and techniques was send to "tide people over" till the restaurant opened it's doors again. For each "catch" the restaurant provided one of their original recipes.
WEST ELM
Trend book presenting the concepts and ideas for the upcoming season.
Covers and front of book editorial stories introducing the concept of each catalog.
MAIDENFORM
Brandbook. Includes history, new marketing concepts and style guidelines.
COTTON MADE IN AFRICA
Timeline illustrating the evolution of Otto International green efforts and the integration of the 'Cotton Made in Africa' program
CLINIQUE
In store promotional display
press kit announcing gloves,foam mailer
designed to create an impression of recipient's hand in order to receive custom-made gloves
DELVAUX
faux sewn exterior on arsenal tower during construction
billboard and commercial for new collection,
inspired by shapes and functions in nature
DUJARDIN
Storybook catalog for kids clothing
MARTHA STEWART EVERYDAY
and
MARTHA STEWART SIGNATURE
Press Kit for the launch of the Complete Bed program.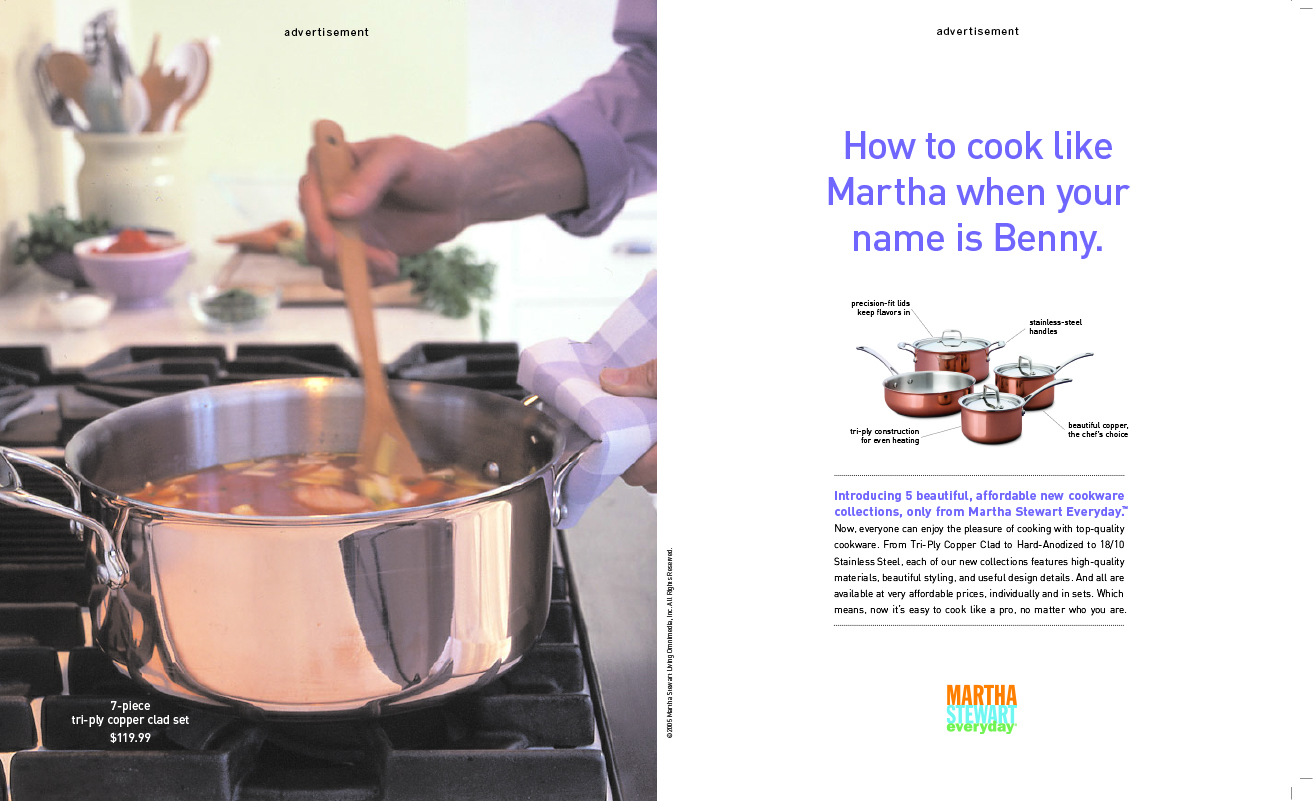 Print Campaign for the different categories of Martha Stewart products
Press invitation for the launch of the Holiday Program. The entire invitation was printed at the start of a roll of wrapping paper.
Signature furniture Catalogue